.

The WebDTs will leave my house next week. Luckily, I have some Cisco packaging, which looks to be ideal for shipping the WebDTs.
Update WebDTs
All WebDTs are on their way to the buyers.
Update 2009-01-07
No power to the projector
Changed to 230V, replaced fuses to 5A, plugged power cord in. Nothing
Took out the two cards which have fuses on them, and checked out the fuses. All okay.
grml
Update 2009-01-08
Thinking about the power issue, getting help from Curt Palme, I go down again, and check the new 5A fuses. And, one of them is shot. New, but shot
Driving to the shop, and getting three new ones (just in case), checking one of the fuses, if the fuse is okay. cool
Plugging in fuse. Turning on PJ - Stndby lights - Yeah
Pressing StdBy on the remote
Tubes light up - Hooray
ohhhh, the red one does not light up
*grml* . . . try the neck board, maybe it got loose during transport.
Yes, the neck board on the red tube was loose. all three tubes light up
Put on a signal and see how good it looks
We see the burn in, lets change the raster, and make a picture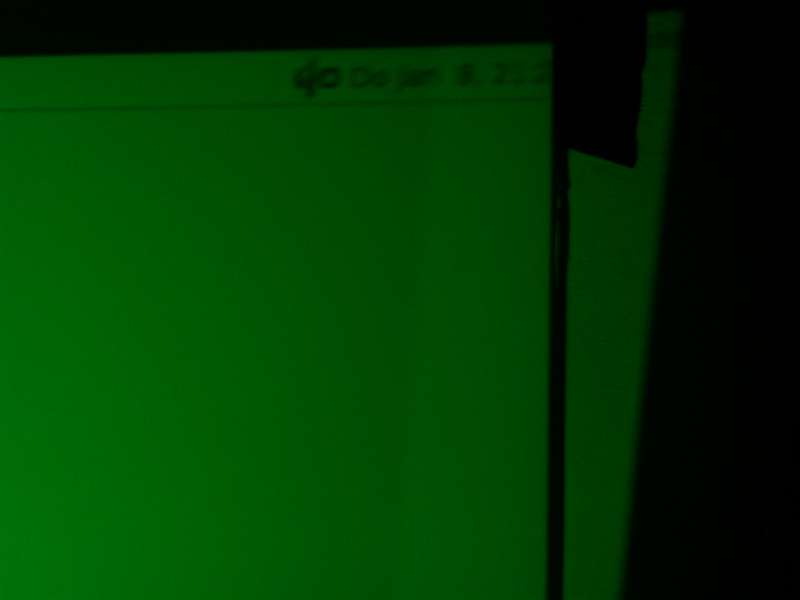 This picture shows the green mask fairly well. There are some waves on the left hand side as well. I could not detect a mask on red or blue yet.
Well, except the burn-in
I will definitly need a new or 9/10 green P19LPB03xxx tube.
Update WebDTs (2009-01-09)
All WebDTs are at their destination
Update Pumping (2009-01-10)
Today I finally made a short video showin the pumping action of the set
The file is about 3MB big. 5 seconds into the film you see that the menu is in the focus, a few seconds later the focus is off again.
Please ignore the flickering (display set at 50hz, filming at 29.xxhz)
Update Pumping (2009-01-15)
Thanks to Oliver K from Leipzig, I was able to pull out one of the red cables going from the HV splitter to one of the tubes.
I pulled out the cable for the red tube. The focus problem is no longer visible. What does that tell me?
There is still pumping in the picture, but the focus is not effected by this pumping.
Another Update On The Pumping (2009-01-15)
Unfortunately, once the PJ is getting warmer, the pulsing of the focus continues :(
Any tips are greatly appreciated
EHT arrived (2009-02-03)
The EHT arrived today. After letting it sit a while, I exchanged the EHTs, powered on the PJ, and ... the pulsing continues :(